Add to favorites
These are some gift ideas for friends and family that like to hit the road.
Lets think light weight and portable
---
Click on the Orange names, they will take you to the link for that gift.
---
1. Gift Cards – These days you can get gift cards for so many things.
Fuel cards – Who doesn't need fuel while they travel.

Bunnings Gift Cards
Holiday parks membership
Coles Group Gift Cards – Food, alcohol, Target, Kmart, office works.
Cravan & Camping Gift Cards –

Caravan RV Camping &

Tentworld
Gift Voucher From Tent World
Gift Voucher From Caravan RV Camping
---
---
2. Redballoon Experiences – Something a little different. They can choose an activity to do in what ever state they like. Everything from hot-air ballooning, race car driving, camel riding to various tours.
They also have gifts, vouchers and hampers. Check out Redballoon here.
---
3. Books, Audio & E-books – QBD Books. Audio books and E-books take up less space while travelling.
---
4. iTunes Gifts By Email – They can have audio-books, music, movies, TV shows or apps at itunes
---
5. Power Bank For Phone – This can come in handy when you're traveling and can't plug in to recharge. Less then $20 Power bank from JB Hi-fi
---
6. Hard Drive – so they can save the many photos and videos they take on their travels. Hard Drive from the Good Guys
---
7. Map Decal of Australia – they can track where they have travelled. This one is from Adventure Awaits.
---
8. Pegless Washing Line Everyone needs a washing line and theses are light and colourful. Check them out here at Adventure Awaits
---
9. Name a Star after someone – From $39.95 on Star Name Registry
---
10. Head Torch – for those walking through the camp in the dark check out Tentworld
---
11. WikiCamps – This is our travel bible. This is a must for every traveller.
It includes, Free camps, campgrounds, caravan parks, backpacker hostels, day use area, points of interest, information centres and public dump points – $7.99 on WikiCamps app
---
12. Drinking ideas from Adventure Awaits
Head to Adventure Awaits for more great drinking ideas
---
13. Usb Stick – Surprise them with family photos, music and memories you have already put on a USB stick.
---
14. Inflatable Kayak can be bought from Caravan RV Camping as well as so much more
---
---
15. Fire Pit – portable and collapsible fire pit. You will find a heap to choose from at Tentworld
---
16. Travel Hammock – There are many to choose from at Tentworld have many to choose from
---
17. Digital Magazines – From caravanning and camping to fishing and hobby magazines. isubscribe has so many to choose from.
---
18. Mini Expresso Cappichino Coffee Maker – No power needed. This one comes from Caravan RV Camping.
---
19. Gift Hamper – Also known as the MacGyver kit.
Make up in a collapsible bowl as an added gift.
Duck tape, cable ties, hose fitting, Waterproof matches, BBQ lighter, fishing lures, mozzie coils and spray, mozzie head net, any goodies you know they love.
---
20. House Sitting Subscription – For those that are permanently on the road like us, they might like to save money by doing house and farm sitting.
We use Aussie House Sitters. Use our Coupon Code "AHS15%off". This will give you 15% off
---
---
21. Craft – Games, Puzzles – Jigsaws – You will also find Cooling towels, Eco friendly and Reusable products, Journals and so much more at "Adventure Awaits"
---
22. Gifts For Kids – fun activities books, journals & a map of Australia you can scratch as you go.
---
23. Gifts For The Whole Family. Adventure Awaits, Sells a huge range of products for every family member.
Everything from unique caravan inspired goodies, beer& wine holders to clip together crockery.
They also sell great gifts for kids. Games/toys, journals, jigsaws to arts and crafts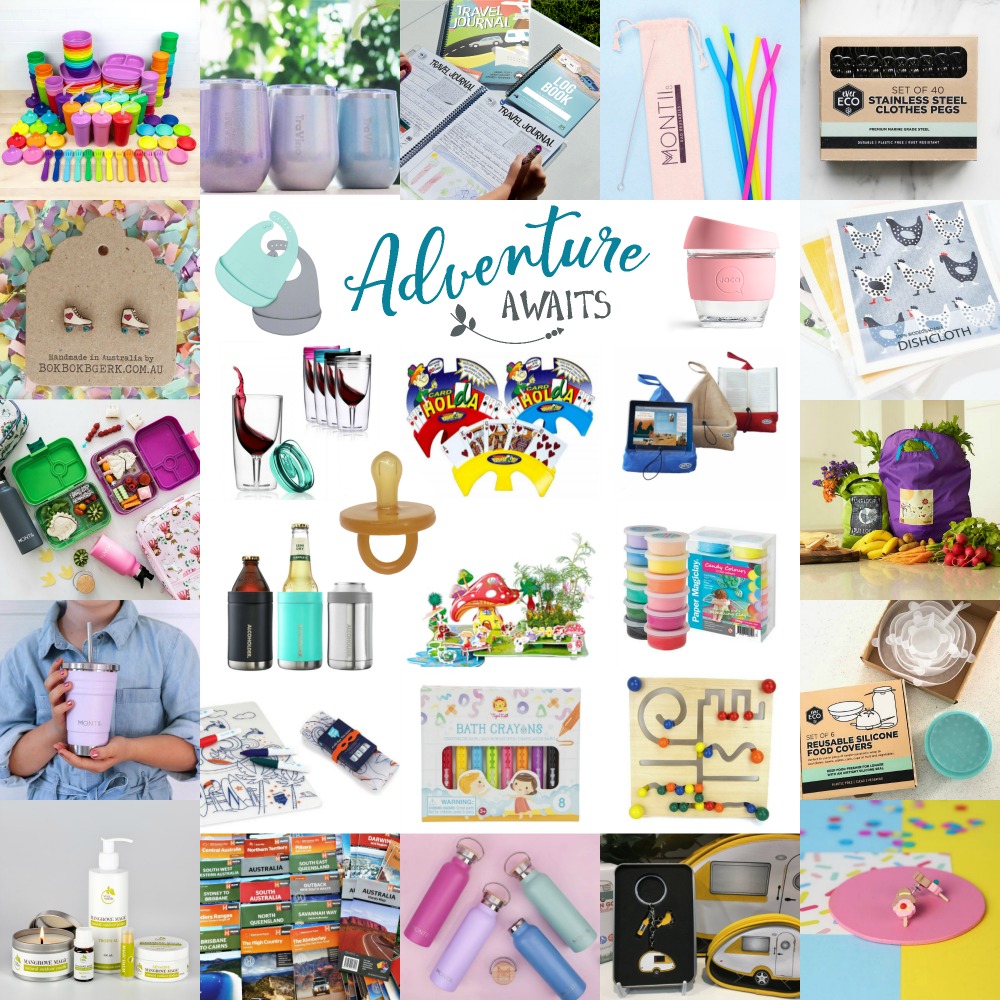 ---
24. Something For Pets. A stainless steel pet water bottle. For when your out and about.
This is a beautifully designed bottle for pets. They have many other great gifts. Check out splitpeas.com.au

---
25. Beer & Wine Socks. Keep feet warm while wearing these fun socks from Love your travels.

---
26. Linen & Homewares. Every caravan and motorhome should feel like home on the road. Check out Adairs for heaps of ideas.
---
27. Smart Space Pots that stack neatly inside each other like a Russian Doll – 3 smart pans, 3 lids, 3 Teflon mats, 1 detachable handle. We love ours!
---
28. Buy them peace of mind with WITI Anti Theft System. Think alarm, flashing lights and immobilising.
---
29. Collapsible Space Savers like: Kettle, Bucket, Set of 3 None Stick Pans, Sink & Chopping Board. Yep, that's right, ALL Collapsible.
---
30. Navigator Outdoor Caravan Camping & Adventure Gear – Great gear such as, Folding Step, Fold Away Dog Bed, Jockey Wheel & Chock Buddy.
---
Bonus idea – Donate a gift to the more needy on the persons behalf. You have so many to choose from, these are just an idea.
Toy donation to The Smith Family OR Buy a Bale – Help out our Aussie Farmers
---
You Might Also Like
---
To be transparent, we do have some affiliate links and codes on this page. We may get a small commission if you purchase something. This will be at no additional cost to you.
---
Lithium Batteries, Portable Solar Panels, Inverters, Portable Generators, Jump Starters, & Portable Power Stations for caravans & camping.
---
My Generator is not just generators. They have a large range of; generators, caravan fridges, caravan air conditioners, portable camping fridges, 12/24 volt appliances, pressure washers, water pumps, outdoor power equipment and much more!
---
(Visited 17,962 times, 1 visits today)